Barcelona revisited
From December 16, 2018 through April 9, 2019 I am staying at Mas els Igols in Torrelles de Foix. I am doing an artist-in-residence again but now a short distance from Barcelona.
Het winnen van de Kunstliefde prijs was voor Lucy aanleiding voor een interview. Elaine Vis bezocht mijn atelier.
https://www.lucyindelucht.nl/te-zien/carien-vugts-kunstliefdeprijs-2018
Kunstliefde Prize 2018
I won the Kunstliefde Prize 2018!!!!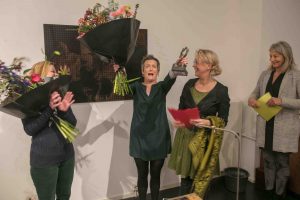 http://www.kunstliefde.nl/content/files/Juryrapport+Kunstliefde-prijs+2018+2.pdf
The working process of Mirror Garden is recorded by Ferry van Nimwegen and Gerard Wielenga. You can see the movie here:
The Garden studio, Mirror Garden
Since August 1st, I am together with Anna van Suchtelen en Uli Kürner working in the Garden studio of the K.F. Heinfonds in Utrecht. We are working on a project with the Title Mirror Garden.
https://kfhein.nl/nieuws/uli-kurner-anna-van-suchtelen-en-carien-vugts-in-het-tuinatelier
Exhibition
April/may 2018, participation in the group exhibition
'Vals Plat'

at Kunstliefde, Utrecht. The exhibition is composed by Henriëtte Santing and me. The exhibition opens on Sunday 8 april 2018.

https://trendbeheer.com/2018/04/21/grensgevallen/ http://soekkhasluysveer.com/
Home again
In my studio I started making new pieces after being back from Barcelona, where I had a residency for 3 months at Hangar.

Together with Anna van Suchtelen and Uli Kurner I am working on a new piece in the sequence: 'just like a bright silvery mist'